Beat the Devil!
January 20 @ 7:30 pm

-

9:00 pm

$15.00 – $25.00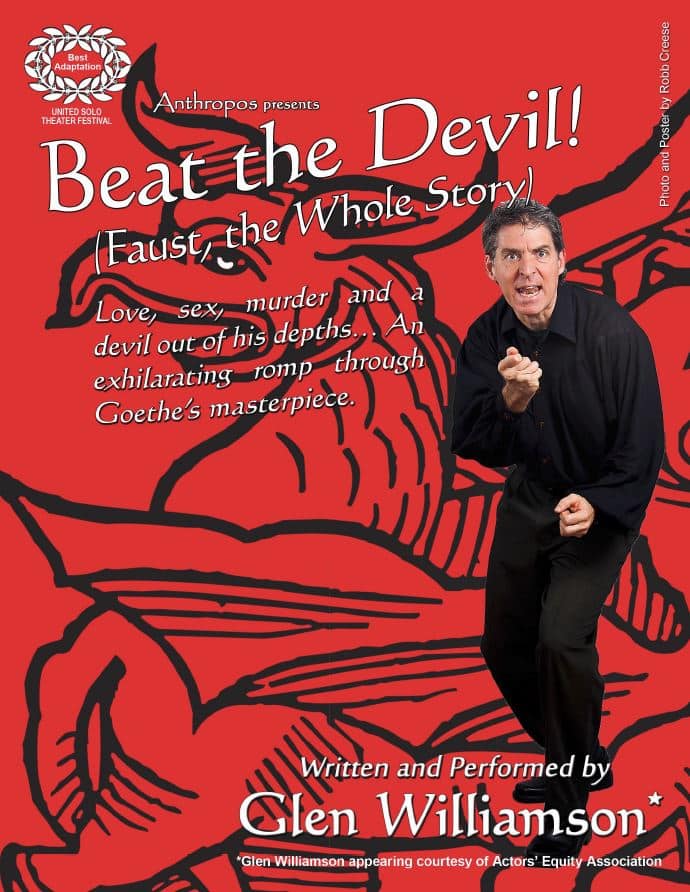 The Seattle Branch of the Anthroposophical Society's
Community Council for Events & Festivals
presents the Anthropos production:
"Beat the Devil! Faust, the Whole Story"
Based on the play by Johann Wolfgang von Goethe
Told by Actor and Storyteller
Glen Williamson
(appearing courtesy of Actors' Equity Association)
A man and a devil will battle it out at [theater/venue] as professional New York actor Glen Williamson performs Beat the Devil! Faust, the Whole Story. [Host Organization] presents the Anthropos production of this one-man play about love, sex, murder, myth, magic, war, waves and a devil out of his depths.
The production comes to Seattle after its award-winning appearance off Broadway at the United Solo Theater Festival in New York. Audiences throughout North America, the UK, Ireland and Europe have praised this performance, which New York Arts editor Michael Miller called, ". . . brilliantly perceptive and witty. . .both a delight for those who know Goethe's original and an appealing introduction for newcomers."
Through drama and masterful storytelling, Williamson transforms Goethe's entire 24-hour-long, two-hundred-year-old classic drama into a 90-minute sometimes humorous and always exhilarating battle for the soul of a man searching for truth, satisfaction . . . and a Goddess.
"Faust is the old legend of the guy who sold his soul to the Devil. But Goethe gave the bargain some surprising twists!" Williamson says. "Beat the Devil! is astonishingly pertinent to our time and our struggle to be human.  It's about a guy who craves knowledge, beauty and meaning. But," Williamson adds, "when the devil tries to satisfy that craving, he finds out that's not so easy."
A short preview of this production (also known as The Tragedy of Mephistopheles) can be seen on YouTube.
---
Glen Williamson, a founding member in New York City of The Actors' Ensemble and New Directions Theater, appeared in numerous productions with both companies, as well as with Walking the dog Theater.  He currently plays multiple roles in seven productions touring throughout North America and in Europe. His production company Anthropos (the Greek word for human being) seeks to uphold and celebrate what is truly human through the arts of theater and storytelling. Visit AnthroposTheater.com.
---
Ticket Prices:
General Admission: $25.00
Senior over 65: $15.00
Teachers: $15.00 at door only
Students: $10.00 at door only
High School Students: $5.00 at door only