Explore the night skies with this beautiful illustrated monthly guide to the stars and planets. This large-format almanac allows you to step outside and track the planets, locate the Milky Way, recognize the constellations of the zodiac and watch meteor showers. This calendar offers a beautiful monthly guide to the night skies. It is designed specifically for naked-eye astronomy—no telescope required!—making it ideal for beginners, children, and backyard astronomers.
This year there is a feature article on the total sun eclipse across North America in 2017 and another article on Charles Messier, who died 200 years ago and published an astronomical calendar to help comet hunters.
Each monthly chart features two views of the night sky looking north and south, and a visual guide to the phases of the moon and the movements of the planets. The notes include fascinating insights into the science, history, folklore, and myths of the stars and planets.
Stargazers' Almanac 2018 also features:
Advice on how to navigate the night sky
Overhead reference map of the sky
Reference plan of constellations
Glossary of constellations and Latin names
Glossary of brightness of stars
Guide to the signs of the zodiac and how they relate to the stars
Loop and eyelet for easy wall hanging
presented in a sturdy cardboard gift envelope
Stargazers' Almanac is endorsed by the British Astronomical Association's Campaign for Dark Skies. The 2018 Almanac includes an interesting discussion of the pros and cons of the new LED street lights being installed across the United Kingdom.
Suitable for astronomy enthusiasts throughout the Northern Hemisphere's temperate (non-tropical) latitudes.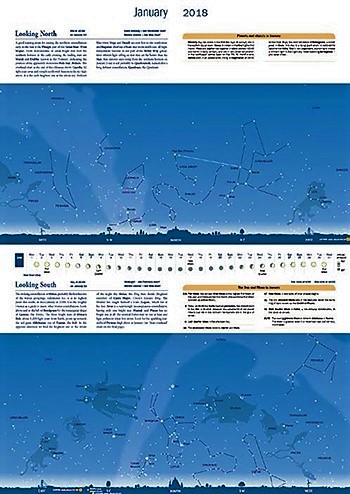 ---
"A very good, very useful Almanac." —Sir Patrick Moore
"A beautiful, informative spread for every month of the year." —Green Parent
"An almanac such as this can be a great blessing and encourage a sense of wonder at the heavens... The almanac will make an attractive and informative present, especially for a young person, to get them interested and involved in actual viewing" —Margaret Jones, New View
"With this in hand you should be able to explore the night sky and sort out Andromeda from Perseus ... I really felt that with this in my hand I could find my way around the sky as I never have before ... this is a really valuable asset to the amateur astronomer and a good gift for anyone with even the slightest interest in the stars. *****" —Brian Clegg, www.popularscience.co.uk
"Now a regular player on the night-sky-watching scene, the Stargazers' Almanac is in good time to be selected as a Christmas gift for anyone with the slightest interest in what is going on 'up there'... a very worthwhile publication." —David Stickland, The Observatory Magazine
"An attractive, user-friendly, understandable guide." —Robert Key, MP
"This calendar has a place in the study or library as a reminder of what's up in the sky, and has popular appeal especially for newcomers to astronomy." —Maurice Gavin, Journal of the British Astronomical Association
"Practical, nice to look at and suitable for all levels of skywatcher, I recommend Stargazers' Almanac." —Peter Grego, Popular Astronomy
"This Almanac will show you the wonders of the night sky, a sight that is becoming ever more precious with light pollution often masking our view." —Bill Bryson