An Illustrated Treasury of Scottish Folk and Fairy Tales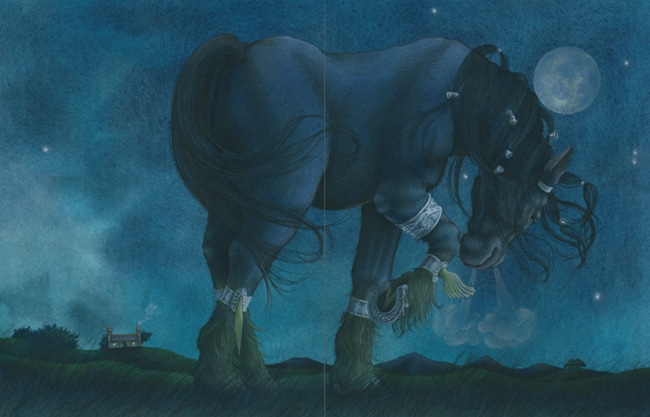 Slithering stoorworms, mischievious brownies, fierce kelpies and magical selkies—these are the creatures of Scottish folklore.
An Illustrated Treasury of Scottish Folk and Fairy Tales is by an award-winning children's author Theresa Breslin who has collected the best-loved tales from all over Scotland. Retelling each in its own individual style, she presents funny tales, moving stories, and enchanting fairy tales. Soar with the goshawk, dive with selkies and battle with the stoorworm, as each story is brought to life with Kate Leiper's exquisite illustrations that brim with otherworldly beauty.
See also the companion volume, An Illustrated Treasury of Scottish Mythical Creatures
A wonderful gift, this is a truly stunning book to be treasured for a lifetime and will be enjoyed by parents and grandparents as well as children.
Longlisted for the Kate Greenaway Medal 2013
————————————
Table of Contents
The Wee Bannock
The Water Kelpie
The Goshawk and the Brave Lady
Whuppity Stourie
The Shepherd's Dog
Rashie Coat
The Selkie of Sanday
The Eagle and the Wren
The Brownie of Ballharn Hill
The Dragon Stoorworm and the Boy Called Assipattle
Tale End
Glossary
About the Author
Theresa Breslin is a critically acclaimed author of over 30 books for children and young adults. She lives near Glasgow, Scotland. Her work has been filmed for television, broadcast on radio, and is read world-wide in many languages.
Kate Leiper is an artist and illustrator based in Edinburgh, Scotland. She studied at Gray's School of Art in Aberdeen and her work has been exhibited in galleries from London to the north of Scotland. She has been commissioned for projects by the Scottish Storytelling Centre and the Royal Lyceum Theatre. Her inspirations range from Scottish folklore to Shakespeare.