This War is not Inevitable
March 24 @ 7:00 pm

-

9:00 pm

$20.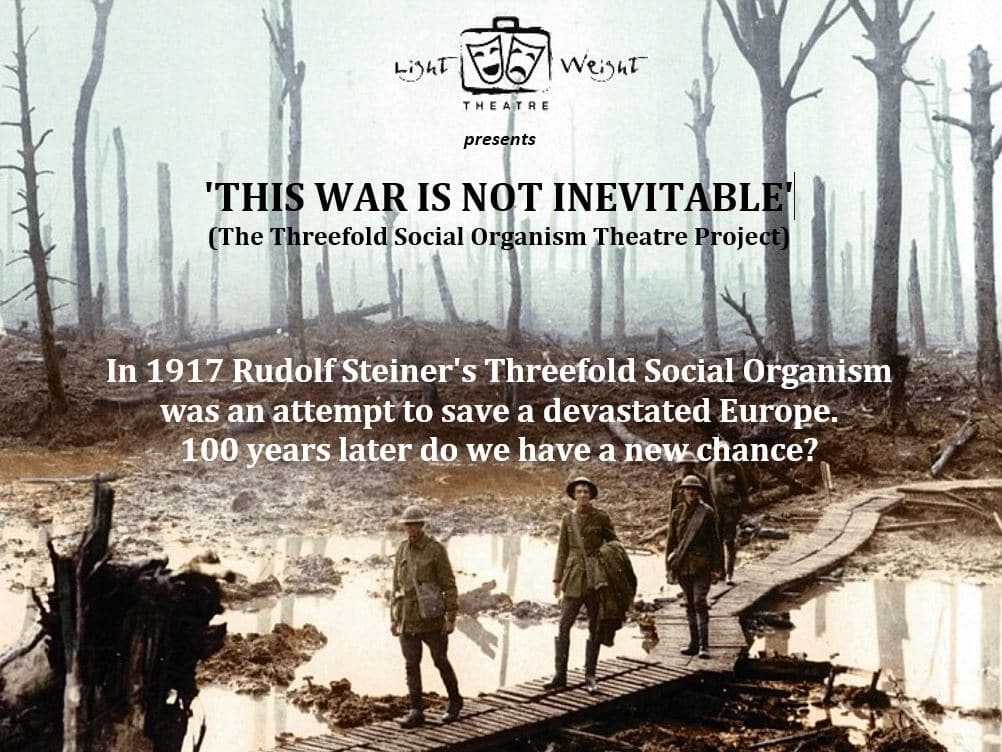 The Seattle Branch of the Anthroposophical Society's
Community Council for Events & Festivals
presents the Light Weight Theater's production:
'THIS WAR IS NOT INEVITABLE'
A play for two actors performed by
Michael Burton and Christian Peterson
Written by Michael Hedley Burton
THIS WAR IS NOT INEVITABLE is a play written to mark the centenary of the birth of an idea that could yet change the world – Rudolf Steiner's Threefold Social Organism.
The Threefold Social Organism was first of all an idea that could have taken two years off the length of the First World War and made the Second World War impossible. It addressed people's vulnerability to political and economic events – something that is every bit as relevant today as it was in 1917.
By showing us what Steiner was attempting to do in 1917 and how the German ruling classes and general population received the idea, the play gives audiences an excellent summary of what this idea is and invites us to consider how it could exert an influence in the chaos of our time. In this production there is also much humor and warmth and you see Steiner in a way that he has never been portrayed before.
Rudolf Steiner's Threefold Social Organism was an attempt to make war impossible. 100 years later, could its time be now?
---
New Zealander Michael Burton is based in Sydney and works as a writer, speech performer, actor, speech therapist, and voice teacher. He is the writer of the script for an international project to perform a play that follows on from the four initiation dramas of Rudolf Steiner. He gives performances in a number of countries of his one-man drama, Shakespeare and the Mystery of the Human Being (2003).
---
Please Note: This play is not suitable for children under fourteen but will appeal very much to all who care for the fate of the world and have hopes for world peace – not as a utopian dream but as something absolutely achievable.
Ticket Prices:
General Admission: $20.00
Students & Seniors over 65: $15.00
High School Seniors: Free